Unlocking the secrets of the dark academia interior design trend
---
Enter the magical world of Dark Academia interior design and discover the types of rooms that best suit this aesthetic, with a focus on interior doors.
The Dark Academia interior design trend is more than just a style; it's an atmospheric and intellectual experience. Drawing inspiration from classic literature, historic academia and even a touch of Gothic architecture, this trend has captivated homeowners who crave a space filled with intrigue and sophistication.
Enter the magical world of Dark Academia interior design and discover the types of rooms that best suit this aesthetic, with a special focus on an often overlooked but essential element: interior doors.
Enchanting home offices for maximum focus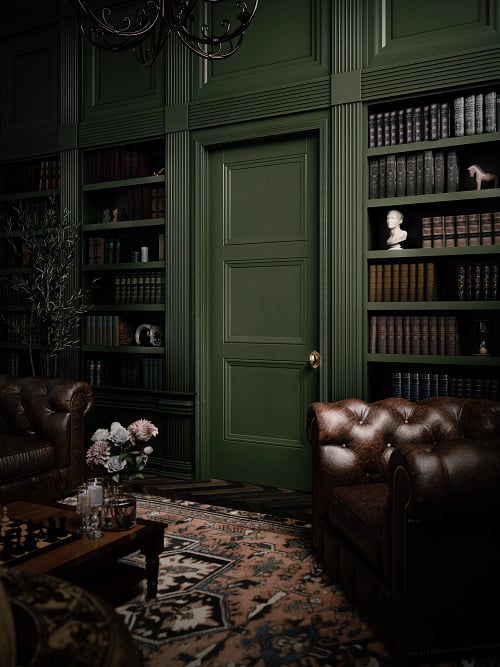 For those who work from home or simply crave a dedicated space for study and reflection, the Dark Academia trend works like a charm. Consider dark, paneled walls and built-in bookshelves with intricate molding. A heavy wooden desk, tufted leather furniture and intellectual artifacts like an antique chessboard add a studious air to the space.
When it comes to interior doors for a home office, choose a solid, imposing door that reflects the sincere atmosphere. These doors should be substantial, with intricate molding details like the Masonite Livingston 3 Panel Interior Molded Door. Opt for a smooth finish in a deeply saturated hue that complements the overall aesthetic.
Beautiful bedrooms for spell-binding sleep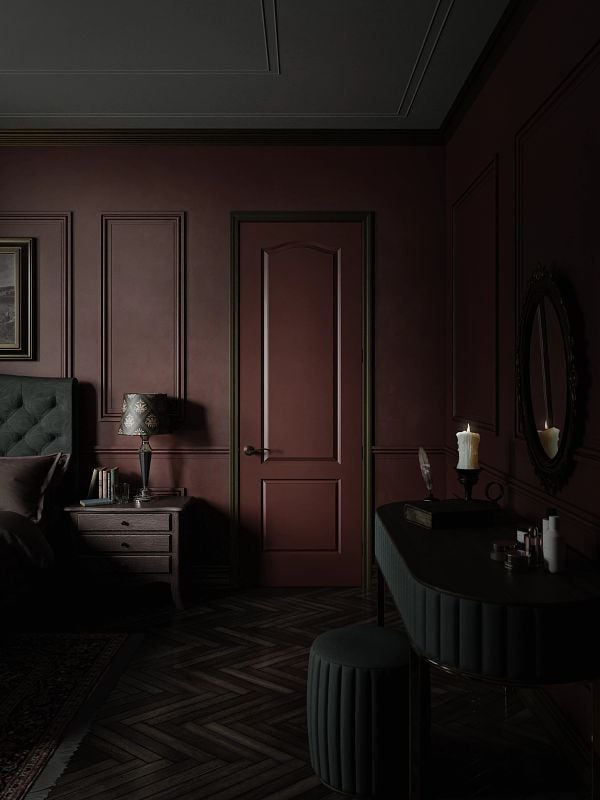 The bedroom is the perfect canvas for bringing the Dark Academia aesthetic to life. This private retreat marries rich, deep colors, such as burgundy, forest green, and charcoal black, with antique furniture, heavy drapes and a dimly lit ambiance. To create an intimate and mysterious atmosphere, consider heavy, plush bedding and a velvet headboard for a touch of old-world charm. Choose wooden flooring with intricate parquet patterns, and adorn the walls with bookshelves, vintage art and moody lighting fixtures like classic candlesticks.
When it comes to interior doors for bedrooms, opt for solid wood doors with ornate carvings or interior molded doors with detailed paneling. Panel designs with curvature like the Masonite 2 Panel Roman Interior Molded Door give a nod to the iconic architecture that inspired the trend.
The importance of interior doors in dark academia design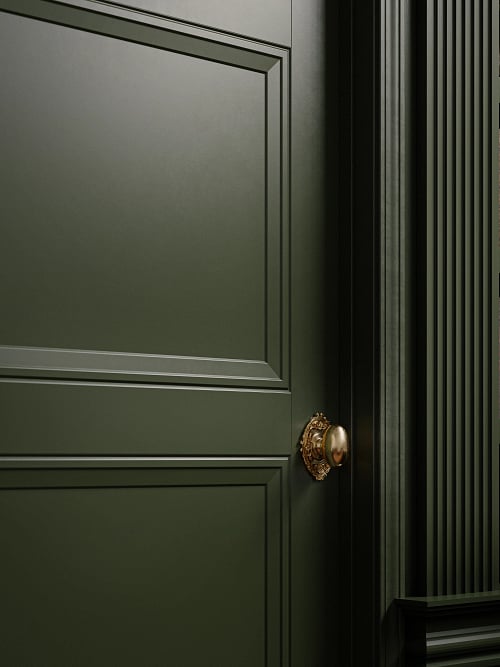 While doors are often overlooked in interior design, they play a significant role in Dark Academia aesthetics. The door design, particularly those with intricate panels, add a sense of mystery and timelessness to any space—it's like stepping into a different world, much like entering a hidden library in an old academic institution.

How the door performs matters just as much as how it looks. Since Dark Academia spaces are designed to be quiet and studious, solid core doors are typically a better choice than hollow core doors. Masonite solid core doors are made with 70% more sound-dampening material than our standard hollow core doors, which can lead to a better night's sleep or help you get more work done.
By paying attention to details like interior doors and choosing materials, colors, and furniture that evoke this aesthetic, you can transform your home into a space that exudes mystery, intellect, and an enduring love for the classics. Whether it's your bedroom, study, office or any other space, embracing the Dark Academia trend can make your home a truly magical place.
Last Updated: October 18, 2023